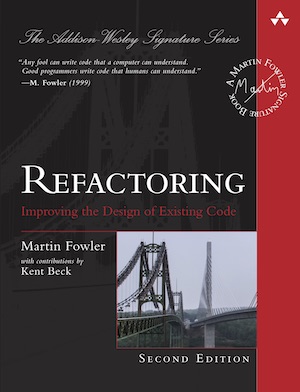 This year was supposed to be full of reading and learning new things, but the reality has shown that it had different plans for my time. That's why it took me much longer that usual to finish this book and therefore I may forget some of the things that I found interesting in it.
I must admit that as a writer Martin Fowler has his unique style that you start to grasp after finishing just a few pages of any of his books. He's one of the father figures of the "make code for humans not for the machines" movement that some may also call "clean code & architecture". It's always interesting when in his books his starts to mention his buddies who'd contributed a lot to make developer's life easier. In this book for example I found out that "smelly code" saying was invented because Kent Beck had to fight two things simultaneously: someone's bad code as well as smelly diapers. A quick glance to other people's lives is something that you can't often find in technical books.
Speaking of the book itself I don't think that there was much to be surprised about since the first edition. More controversial refactoring methods have been added, it always frightens me when one example contradicts with the one that you read a few pages ago. But that's the art of writing elegant code that can pass code reviews. You never know what type of refactoring will be useful until you try all of them. And some of them can be opposite to one another, but that what makes good developers artists not just craftsmen.
I enjoyed the choice of switching to Javascript to illustrate the refactorings. It made the book much more concise and at the same time if JS is not your primary language it makes you think how this or that example would work in your language. That's the right way to go in my opinion.
My score is 4/5